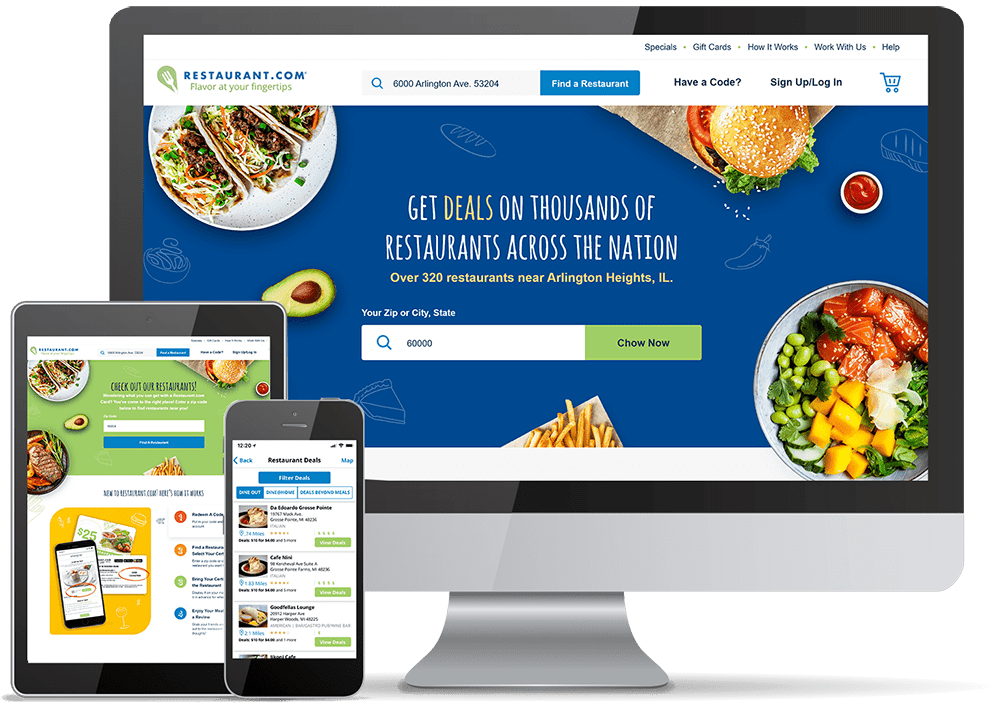 RDE, Inc. is the parent company of innovative brands in the dining, entertainment, and retail space.
Our flagship brand, Restaurant.com, is the nation's largest restaurant-focused digital deals brand, founded in 1999. We're also a powerful marketing program for restaurants and a trusted partner for many businesses. We're excited to share our vision with you of becoming the online destination for all things restaurant.
RDE, Inc. is a public company traded on the OTC Markets exchange with ticker symbol RSTN. As a diversified holding company, RDE, Inc. operates a range of businesses that connect consumers, businesses, and communities across the United States.
Whether you're looking for the best deals at your favorite local eatery or searching for a new dining experience across the country, we've got you covered. With thousands of dining and retail deals available nationwide, our customers can save big on every meal and shopping spree.
Led by CEO and Chairman Ketan Thakker, our talented and experienced management team and board of directors have a deep understanding of the essential components of our e-commerce platforms, customer habits and demographics, and product sourcing.
1
M+
total customers on file
1
K+
monthly unique visitors
1
K+
restaurants and retailers
Companies
Our
Companies
At RDE, Inc., we're constantly striving to offer our customers the best in the online deal space. By expanding our network, we continue to deliver unparalleled deals and incentives to our loyal customers, while also reaching new audiences and markets.

Our flagship brand, Restaurant.com, is the nation's largest restaurant-focused digital deals brand, founded in 1999. With over 184,000 restaurants and retailers across the country, our platform connects digital consumers, businesses, and communities by offering thousands of dining and retail deal options.

Our customers can find a variety of options and savings to enhance their dining experience with our "Specials by Restaurant.com" division. We bundle Restaurant.com Gift Cards with other entertainment options like theater, movies, live events, attractions, and wine.

Spindy guarantees a sale every time, providing unparalleled marketing exposure for bars, restaurants, and retail shops to drive sales and spread the word through social media. It's time for a guarantee. It's time for more sales. It's time for Spindy!

Our B2B program provides incentive and loyalty solutions for businesses using Restaurant.com Gift Cards to entice new and existing customers, increase sales, and promote customer satisfaction. Widely known as a high-value, low-cost solution, we offer the industry's most appetizing products that easily fit in with a variety of company goals and budgets.

With over 15 years of experience, our Restaurant Partner Program helps participating restaurants gain and maintain customers to drive revenue and earn profits. We provide a comprehensive digital marketing platform to help restaurants attract new diners without sending a bill - just hungry diners to fill empty tables.
We remain committed to creating long-term value for our shareholders
We are thrilled that you're interested in our vision to become the world's leading online platform for dining experiences! Join us on this exciting journey towards a bright future together.
Contact Us Today
Team
Our Management
Team
Our success wouldn't be possible without our talented and experienced management team.
Our Board of
Directors
With experienced leaders in finance, operations, technology, and marketing, we are committed to driving innovation and growth in all our businesses.